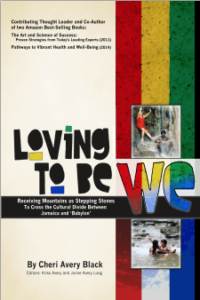 http://eepurl.com/cRXAB9
Please click on the url above and type in your email address and name. You'll receive an email asking you to confirm. Then I'll be excited to send you the full manuscript of my book: Loving to be WE Receiving Mountains as Stepping Stones to Cross the Cultural Divide Between Jamaica and the US/'Babylon.' Enjoy! In return, once the book is published, I request that you post a review when prompted by a later email. That will enter you in a drawing to win a free 3-night stay for two at the Topaz Dream Palace (and 1/2 price for eight). (Value $215) Good luck!
This deeply heartwarming love story radiates from the life-changing encounter of two human souls. Despite being from different parts of the world, they quickly recognize they are meant to be together. Then the troubles begin.
Mountainous obstacles keep blocking their path. Dire predictions from sabotaging friends and a frightening illness intervene. The visa process is stopped dead by a U.S. government shutdown…twice. Is the universe creating these barriers as a warning or to strengthen their resolve?
Alex, a young father in rural Jamaica, is struggling to lift two small sons out of poverty. Once, in the depths of despair, a dream gives him hope. Dare he believe that a woman from a' foreign is coming to rescue them?
Lanee is an accomplished professional in Philadelphia, enjoying her friends, managing her businesses, and traveling the world. In her early 30's, after a confusing divorce, she envisions she is to have 'a bed and breakfast near the beaches in Jamaica.' Even though she suspects it's just a wistful dream, she nurtures it for 15 years. Why not yearn for year-round warm weather and soothing ocean waters?
These dual dreams drift randomly in the ether until, suddenly, they mysteriously attract and converge, bringing the two souls face to face. Is fate facilitating love or manipulating false hopes? It is up to Alex and Lanee to decide.
Against the odds, they risk their familiar lives, commit to each other, and remain faithful to the inner voices of their true selves. "Mountains" are reimagined as "stepping stones," but not without difficulty. Ultimately, the reward is an enriching immersion in livity—a Rastafari concept of One Love—or flowing in harmony with Jah's life force.
Passion, one of many themes, glows from between the covers of this book, along with Jamaican rhythms, the law of attraction, cultural contrasts, racism and prejudice, a Rasta way of living, and the interconnectedness of our destinies.
Among the motivations for sharing this riveting memoir were the successes of How Stella Got Her Groove Back, the acclaimed book and movie of the late 1990's, which also dramatized an unlikely romance sparked by an encounter in Jamaica. Jokingly proclaiming to be Stella's sister, this author reveals the intimate details of an amazing Jamaican Journey which she and her Rasta husband have navigated for 23 years. This story may read like a fairy-tale, but it is as real as life gets.